Swedish Tech News was founded and is being run by Martin Weigert.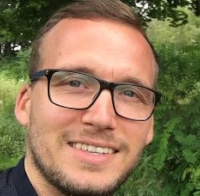 Martin was born in 1983 in Berlin – in the Eastern part, which belonged to the GDR. So during the first roughly 6 years of his life, he lived on the other side of the Iron Curtain. Until November 9 1989, when the wall fell. The most important day in Martin's life.
Martin went to school in Berlin and later obtained a Bachelor of Arts in Business Communication Management. As part of the Erasmus Programme, he studied a term in Sweden. He enjoyed it, so in 2006 he moved from Berlin to Stockholm. While working as a Project Manager at a company specialized in Employer Branding, Martin started to blog about the (at that time hyped) "Web 2.0". In 2010, he quit his "traditional" job to become editor in chief of a major German-language tech blog of that time, netzwertig.com.
During the following years, he covered the German and international startup & tech industry on a day-to-day basis while maintaining his home base Stockholm and experimenting with the lifestyle of a digital nomad, temporarily opening up his mobile office in many different places across the globe, such as the San Francisco Bay Area, Thailand, Mexico, Japan, Spain and Colombia.
After a couple of fun but intense years producing 2-3 articles a day, Martin discovered the beauty of curation: less writing, more reading and information-gathering - same impact. For him, it was the logical evolution of his ventures into tech media, and a way of following the motto coined by Jeff Jarvis "Do what you do best and link to the rest". Martin remotely joined a Swiss startup in the curation field as "Head of Curation", and launched his first own curated newsletter, filled with recommended articles about tech.
Martin had considered himself somewhat of an evangelist for Swedish startups and tech ever since moving to the country (back in October 2007, he wrote an excited piece about Spotify, probably the first article about the company ever written in German). He noticed the growing foreign interest in Sweden's tech sector, but also the lack of an easy way to follow the latest news in English. To fix that, he launched the free weekly newsletter Swedish Tech Weekly in December 2018 as a side project, which he creates once a week since then. In December 2021, Martin launched Swedish Tech News, an exclusive daily newsletter for investors and other industry professionals who appreciate to receive a brief daily summary of the latest news from Sweden's startup & tech sector.
You can follow Martin on LinkedIn. He previously was active on Twitter (as one of the service's earliest users), but has since moved on.