News January 12, 2023: North House, startup-friendly countries, Industrifonden, Norrsken Accelerator, Binance and more
Here are today's news from Sweden's startup and tech sector, exclusively for subscribers of Swedish Tech News.
Funding news
>> Daily updated, subscriber-exclusive Google sheet with all funding rounds raised by private Swedish startups and scaleups.
News from Swedish startups, the tech sector and VCs
Sweden was the most startup-friendly country in 2022, according to a report by StartupBlink, known for its Global Startup Ecosystem Map. Remarkably, the 2021 leader – the United States – lost 4 positions (English).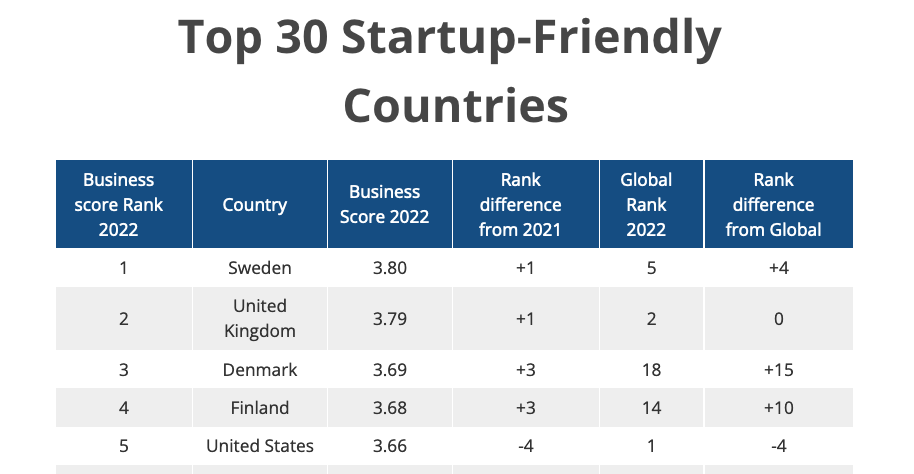 For 2023, Swedish VC firm Industrifonden plans to increase its investments in breakthrough technologies and science-based ventures to more than SEK600M (€53M, $57M), dedicating up to SEK300M into new ventures. Over the past three years, Industrifonden invested in total SEK1.3B, equaling SEK450M annually. "The timing is right to be a contrarian", says CEO Peter Wolpert (English).
Norrsken is now accepting applications for the 2023 Accelerator cohort. The cohort sprint will take place at Norrsken House in Stockholm July - September 2023. Startups that get accepted receive $125K in upfront investment (English).
The world's biggest crypto exchange Binance received the approval as financial institute by Sweden's financial watchdog. The registration allows Binance to launch a website in Swedish and in other ways market itself directly to consumers in Sweden. The company says it plans to start local operations and recruit local talent (English, Swedish).
Other interesting things from the startup/VC world & beyond
It appears that Europe has weathered the downturn better than other regions. Venture funding did fall by 25% and thus, not as sharply as North America or Asia in 2022 (English).
Dark Minds, a London-based company, screens founders' personalities based on techniques from the world of espionage, on behalf of VCs (English).
Other interesting things related to Sweden
The Swedish government commits to invest SEK15M (€1.3M, $1.4M) annually into research that advances electric aviation (Swedish, machine translation).
According to mining company LKAB, Europe's largest rare earth metals deposit has been discovered in Kiruna in Sweden's north (English).
Swedish tech and gadget news site Feber.se says it integrated OpenAI's natural language model GPT-3 through the API into its publishing platform to quickly check and improve writing (Swedish, machine translation).
+++
That's it for today.