News March 25, 2022: Ella, Ekobot, Carl Pei, Teenage Engineering and more
Here is today's curation of news from Sweden's startup and tech sector.
Financing rounds
Ella (Stockholm, upcoming digital healthcare app for women during and after pregnancy): SEK10.5M (€1M, $1.1M) from Add Health Media and angel investors Joo Emmy Sundström, Ninke Liebert, Anders F. Börjesson, Monika Lindquist, Johan Hasselblad, and Louise Engwall Edholm (English, Swedish).
>> Daily updated, subscriber-exclusive Google sheet with all funding rounds raised by private Swedish startups and scaleups. Request access.
News from Swedish startups, the tech sector and VCs
Ekobot, a publicly listed Västerås-based startup developing autonomous tools for precision agriculture, signed a deal with one of Sweden's major vegetable farmers. The company describes the order as its "commercial breakthrough" (Swedish, machine translation).
Spotify paid out over $7B to artists, labels, and the other moving pieces of the music industry last year, up from $5B in 2020, according to its 2021 royalty report (English).
Wired writes about Swedish entrepreneur Carl Pei's plan to once more start a smartphone revolution (with London-based Nothing), together with Stockholm-based Teenage Engineering (English).
Other interesting things from the startup/VC world & beyond
EU ushers in brave new world of Big Tech regulation (English).
Fintech "has been eating up the money" (English / Sifted paywall, alternative URL):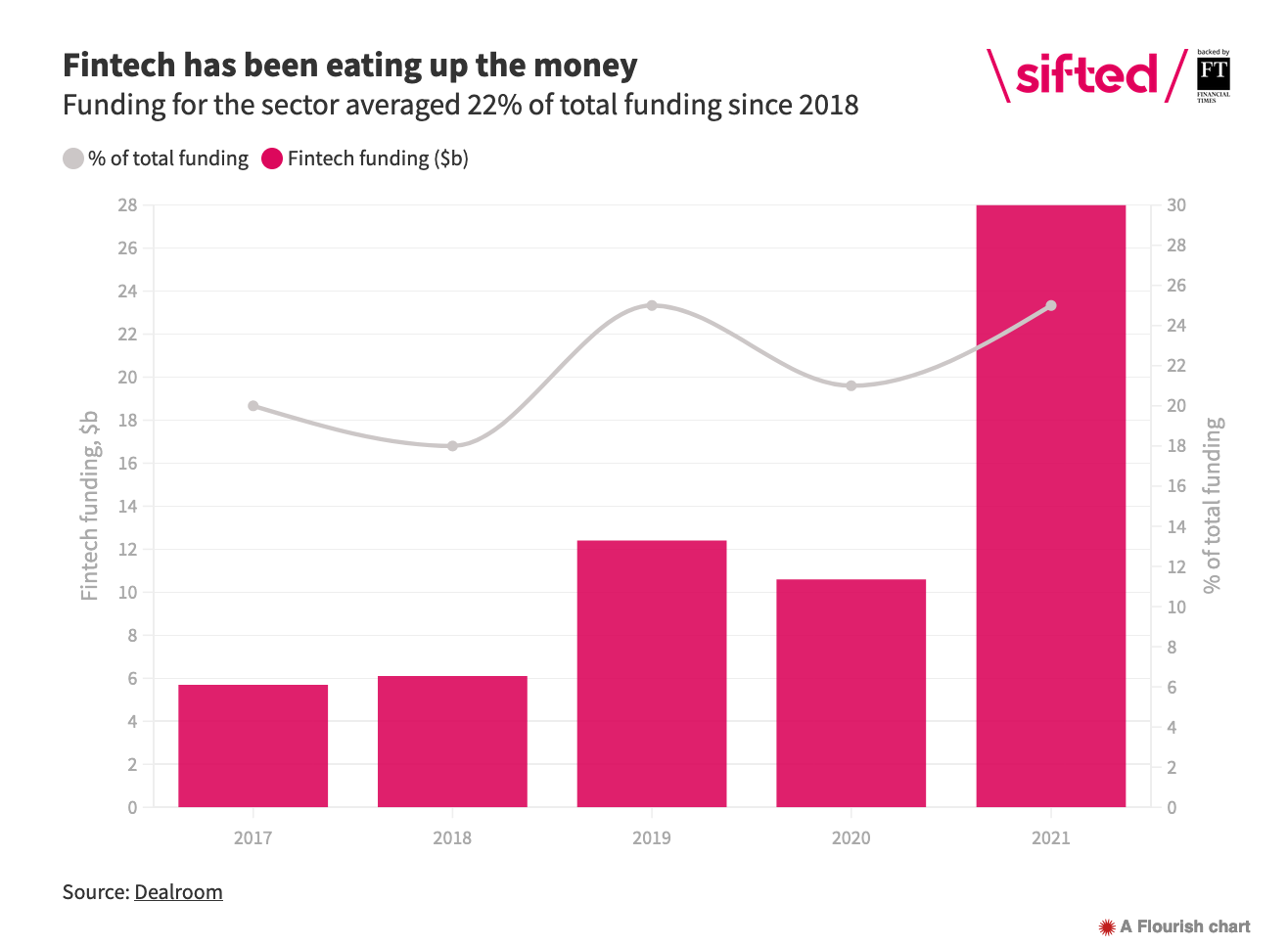 Other interesting things from Sweden
678 Swedish volunteer fighters are known to participate in Ukraine's military defense against Putin's invasion (Swedish, no machine translation available).
Ukrainian President Zelenskyy spoke to the Swedish Parliament on Thursday (English).
+++
That's it for today.