News November 2, 2022: Sigmastocks, OhCleo, Liquid Swords, BeFake, Ella, Sinch and more
Here are today's news from Sweden's startup and tech sector, exclusively for subscribers of Swedish Tech News.
Funding news
Sigmastocks (Gothenburg, robo-advisor): SEK42M (€3.9M, $3.8M) in a funding round from undisclosed new and existing investors, which took place in early summer. SEK17M of the funding represents equity converted from a loan that the company secured in 2021. Sigmastocks raised this funding despite setbacks in the past years and shy revenue numbers so far (Swedish / Breakit paywall).
OhCleo (Stockholm, creator platform for erotic audio stories): SEK2.5M (€230K, $230K) from unspecified existing investors in a "down round" at a valuation of SEK20M (€1.8M, $1.8M). Breakit spoke to co-founder and CEO Celine Fierro, who says securing follow-on funding was tough and that the risk of a bankruptcy was imminent. Recently the company pivoted to become a creator platform for audio erotica, and according to Fierro, initial very good subscriber growth suggests that this has been the right move (Swedish, machine translation).  
Liquid Swords (Stockholm, open-world game developer): undisclosed amount from Chinese internet and gaming company Netease Games (Swedish / Di Digital paywall).
>> Daily updated, subscriber-exclusive Google sheet with all funding rounds raised by private Swedish startups and scaleups.
News from Swedish startups, the tech sector and VCs
BeFake is a newly launched generative AI app for the iPhone built by Swedish software engineers and startup entrepreneurs Alfred Wahlforss and Axel Backlund, together with German developer and entrepreneur Florian Juengermann. The trio describes it as "the first mobile app that lets you use the latest AI model stable diffusion fine-tuned on your face". According to Wahlforss, the entire building process took them only 2 weeks (English).
When it comes to fintech, Sweden and the UK significantly outperform European peers across all critical performance areas, according to a new McKinsey report (English):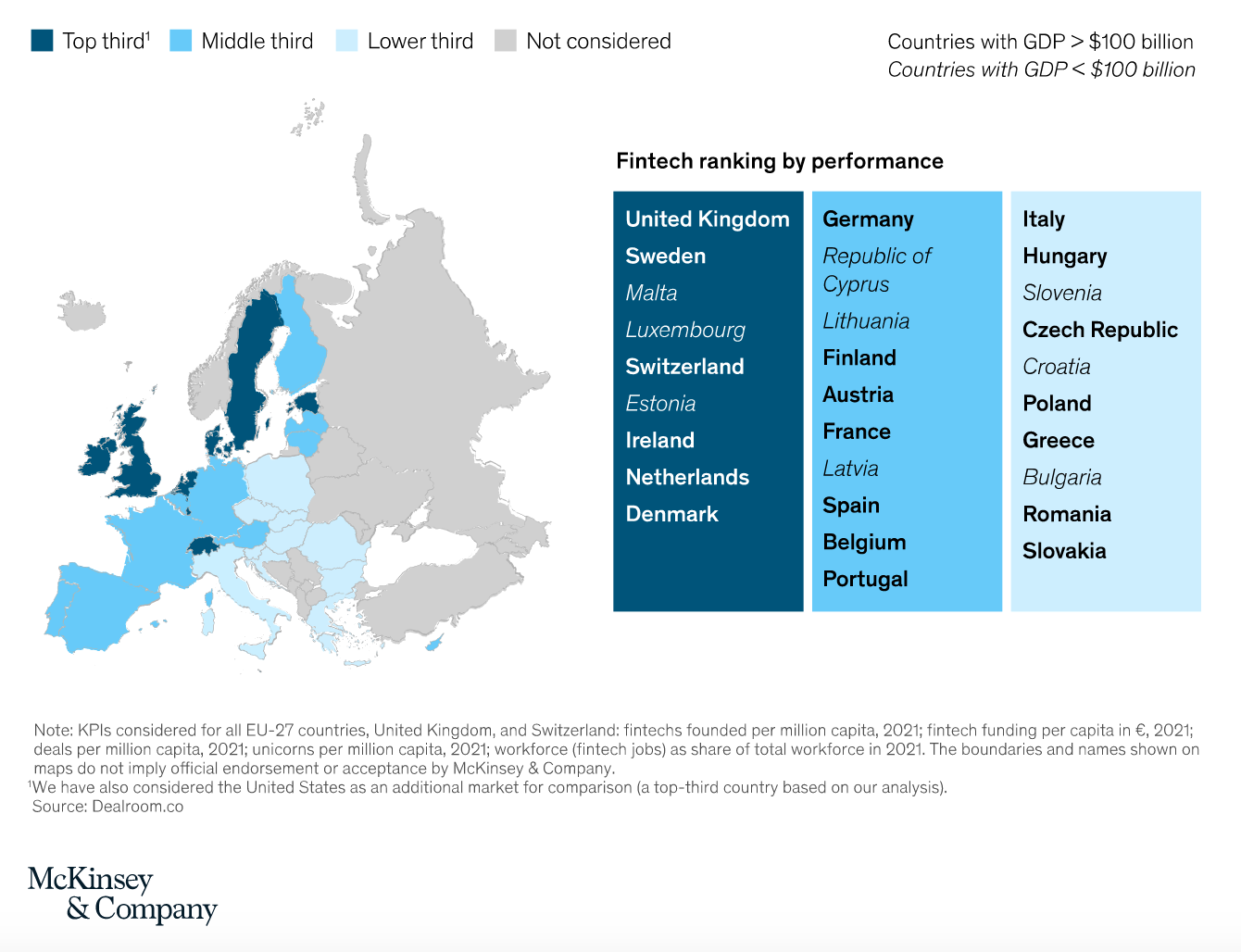 Swedish tech earnings reports
Other interesting things from the startup/VC world & beyond
Mozilla launches a $35M early-stage VC fund which it says is "the first fund focused solely on responsible internet startups" (English).
+++
That's it for today.